Tumblr blog curated by the staff at Greenpeace International communications.
This is our window into the world – articles, photos, videos, links we find interesting, sad, outrageous, or that we simply want to share.
Our interest does not imply endorsement by Greenpeace International.
"

In 50 years, no one will care about the fiscal...

"
"No movement this diverse is going to agree on a manifesto, but any reckoning begins with the idea that fossil fuel is dirty at every stage, and we need to put it behind us as fast as we can."
Climate science 101
Do you know these iconic climate graphs?
These three graphs (among many, many more) show just some of the clear observational evidence that we're changing the climate: global temperatures are rising and arctic sea ice is disappearing while CO2 emissions keep rising. Find out more about these graphs and what they mean here
"A president who has repeatedly identified climate change as one of humanity's most pressing dangers cannot in good conscience approve a project that — even by the State Department's most cautious calculations — can only add to the problem."
Elephant seals wearing head sensors and swimming deep beneath Antarctic ice have helped scientists better understand how the ocean's coldest, deepest waters are formed, providing vital clues to understanding its role in the world's climate.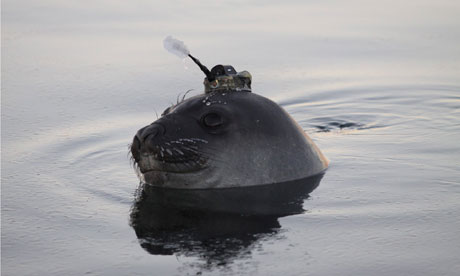 Now you see it, now you don't…
A very good video from last year, somehow doing the rounds again this week…